Gili Trawangan – Lombok
---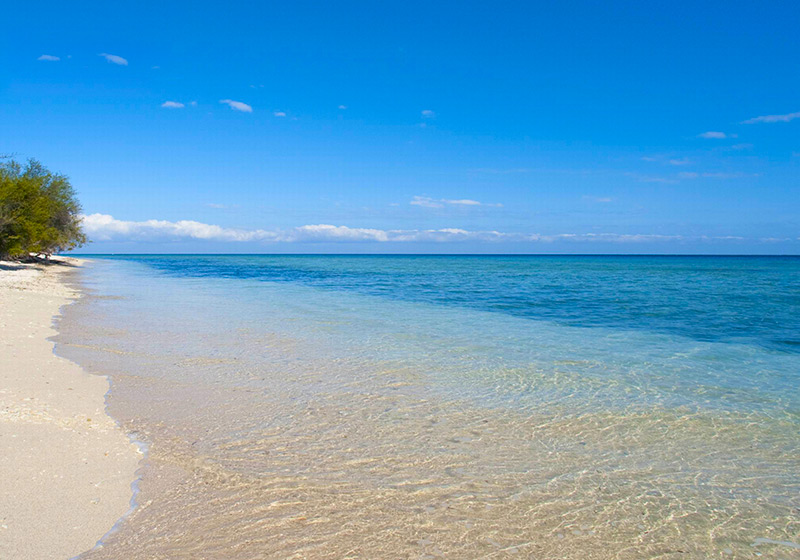 Gili Trawangan Lombok is the best destination in Lombok. Many tour and travel definitely add Gili Trawangan as the favorite destination in the list of travel. This island has a beautiful panoramic belongs to Lombok, West Nusa Tenggara of Indonesia. It is one of the exotic three Gilis after Gili Air and Gili Meno. The beaches have powdery white sand and the water is crystal clear and blue. The island has panoramic view with Mount Agung, Bali and Mount Rinjani, Lombok in its surrounding. Gili offers a great adventure for backpackers as the nature condition of the island is still pure and it provides a lot of spots to be explored. Many tourist both domestic and foreign visit to this beautiful island.
To reach Gili Trawangan, the most common way is by boat motors. You can take from the small port in Bangsal, about 42 kilometers from Mataram town or approximately one hour trip. If from Mataram, you are using motorcycle or car, you have to leave in the port. If from Senggigi, there are shuttle buses services of Perama that will take you directly from Senggigi and depart at 9 a.m to Gili. It takes less than two hours driving from Senggigi. Gili has the length of 3 km and the width of 2 km. The population of Trawangan is about 800 thousands inhabitants.
Arrived in Gili Trawangan, you can do your favorite activities in Gili Trawangan, such as surfing, snorkeling and diving. Gili has a fast right hander that really pumps you with the right condition. The waves are best at high tide. Snorkeling is also fun and exciting. You can enjoy the beautiful life of its underwater life. Diving also offers an incredible experience for you. You can learn various species of fish and other sea creatures. Apart from water activities, you can do horse riding along the beach and its surrounding area. You can see the unique way of life of the local people as well as the beautiful panorama of Gili. Otherwise, you can enjoy the sunset and the sunrise on the beach. Besides fun activities that you can enjoy here, many types of accommodation offers with the best facilities to spend your holiday in Gili Trawangan.
Latest News
Of the many tourist destinations in West Lombok Regency, West Nusa Tenggara, Mekarsari Narmada Park offers interesting tour packages. Tourists can try the Tri Sunah activity tour package. The Tri Sunnah are swimming, horse riding and archery. Mekarsari Narmada Park originated from the desire of local residents to take advantage of the existing agricultural potential. The management has built a new swimming pool on resident's land of 2,500 square besto the ide Pecatu village land of 4,500 square meters. The village land was turned into a park equipped with archery…
---
Kenawa Hill in Sumbawa Regency, West Nusa Tenggara Province Sumbawa Regency is part of West Nusa Tenggara Province and it consists of both land and sea natural attractions. The region even features an archipelago where many beautiful gilis or small islands reside. Kenawa Island is one of them and it is known for both the stunning sea and the famous Kenawa Hill. That means tourists should head to the island first if they want to explore and get on the top of the hill. At that spot, they can enjoy…
---
Sumbawa Regency is part of West Nusa Tenggara Province and it consists of both land and sea natural attractions. The region even features an archipelago where many beautiful gilis or small islands reside. Kenawa Island is one of them and it is known for both the stunning sea and the famous Kenawa Hill. That means tourists should head to the island first if they want to explore and get on the top of the hill. At that spot, they can enjoy several tourist activities like sightseeing, photography, camping, and short…
---
Well, some tourists are likely to look for unique vacation spots over time. It is because they want to get a new experience during the holidays. In this case, Sumbawa Regency offers Batu Bulan Dam! As the name suggests, the dam resides in Batu Bulan Village and it belongs to Moyo Hulu Sub-District. In terms of function, it is similar to other dams for sure. One thing that makes it different is related to the nuance. The beautiful landscape and merry atmosphere lure more people to enjoy sightseeing, photography, fishing,…
---