Gili Air - Lombok
---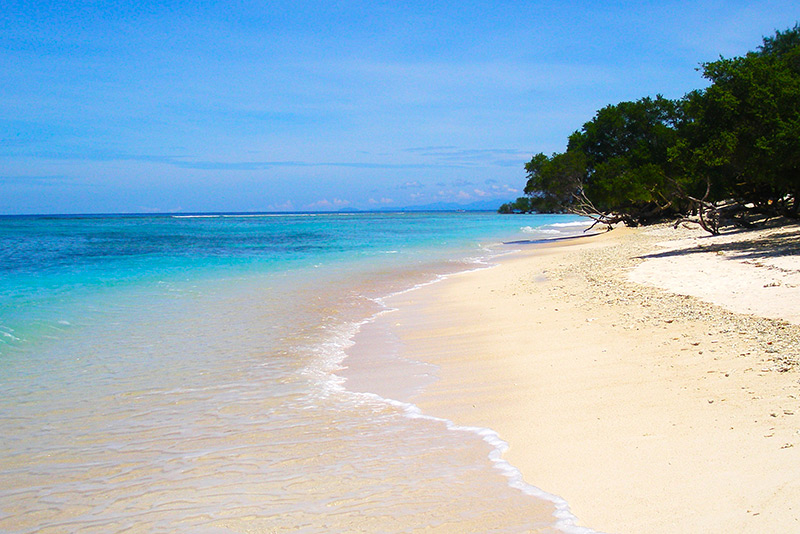 Gili Air is one of favorite marine tourist destination in Lombok.This island has beautiful panorama, just like any other island in Lombok. The population of the island is not too large, it is only about 1,800 inhabitants. The island has unique cultures with many local inhabitants, including Sasak, Bugis, Mandar and Makassar. The various inhabitants make the island unique and interesting. Although the inhabitants are from various tribes, they can live in harmony. The panorama and the local cultures have attracted many tourists to visit the island. Each year, the number of tourists visiting to the island both domestic and foreign increases. This makes the island become more popular.
Gili Air is located in the western part of Lombok Island, West Nusa Tenggara, Indonesia. It is one of the three Gilis which is very popular (Gili Air, Gili Trawangan, and Gili Meno). Gili Air is one of the closest islands to the mainland of Lombok. To reach the island is easy, you can take from Mataram town, by the land transportation to the Bangsal port for about an hour. From Bangsal port, you can cross by motor boat approximately 15 minutes. You can go by public boat transportation or charter a private boat. You can also cross from Senggigi Lombok for about an hour.
In Gili Air you can do many activities such as; Snorkeling and diving. The area for snorkeling is situated in the south east and along the north east parts of the island. You can do adventure by jump into the water and see the beautiful life of its underwater creatures. Colorful fish and coral reef are found in its underwater. Snorkeling and diving will be challenging experience for you. If you choose to do scuba diving, there are some diving operations on all the islands. There are dive centers in the island island, such as Manta Dive, Dream Divers and Blue Marlin. There are also training for beginning divers. Ask for a guide to lead you when you dive in this island. So, please feel free to visiting this beautiful Gili Air in Lombok.
Latest News
Of the many tourist destinations in West Lombok Regency, West Nusa Tenggara, Mekarsari Narmada Park offers interesting tour packages. Tourists can try the Tri Sunah activity tour package. The Tri Sunnah are swimming, horse riding and archery. Mekarsari Narmada Park originated from the desire of local residents to take advantage of the existing agricultural potential. The management has built a new swimming pool on resident's land of 2,500 square besto the ide Pecatu village land of 4,500 square meters. The village land was turned into a park equipped with archery…
---
Kenawa Hill in Sumbawa Regency, West Nusa Tenggara Province Sumbawa Regency is part of West Nusa Tenggara Province and it consists of both land and sea natural attractions. The region even features an archipelago where many beautiful gilis or small islands reside. Kenawa Island is one of them and it is known for both the stunning sea and the famous Kenawa Hill. That means tourists should head to the island first if they want to explore and get on the top of the hill. At that spot, they can enjoy…
---
Sumbawa Regency is part of West Nusa Tenggara Province and it consists of both land and sea natural attractions. The region even features an archipelago where many beautiful gilis or small islands reside. Kenawa Island is one of them and it is known for both the stunning sea and the famous Kenawa Hill. That means tourists should head to the island first if they want to explore and get on the top of the hill. At that spot, they can enjoy several tourist activities like sightseeing, photography, camping, and short…
---
Well, some tourists are likely to look for unique vacation spots over time. It is because they want to get a new experience during the holidays. In this case, Sumbawa Regency offers Batu Bulan Dam! As the name suggests, the dam resides in Batu Bulan Village and it belongs to Moyo Hulu Sub-District. In terms of function, it is similar to other dams for sure. One thing that makes it different is related to the nuance. The beautiful landscape and merry atmosphere lure more people to enjoy sightseeing, photography, fishing,…
---