Gili Meno – Lombok
---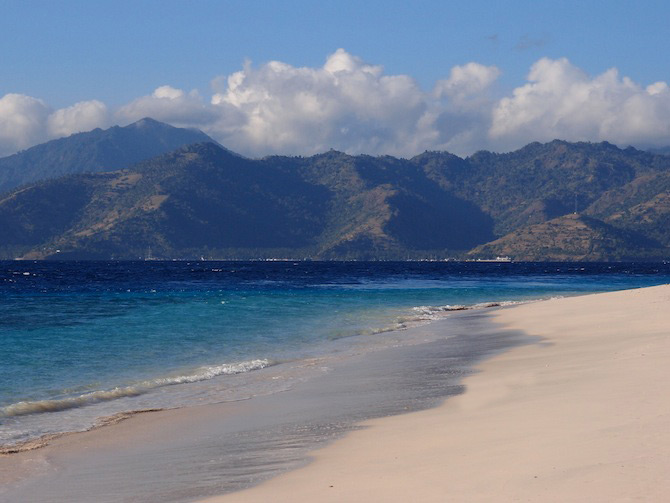 If in Gili Trawangan you will see a festive atmosphere with a variety of interesting events, in Gili Meno you will be presented with an exotic atmosphere of tranquility and peaceful. Not many tourist who visit this island. The smallest and quietest is flanked by two famous of Gili Trawangan and Gili Air. In the west Gili Meno, you can also visit a salt water Lake. The lake is quite wide, surrounded by mangrove forest into various types of birds, one of them is Eagle. If you are not satisfied with the chirping of birds in the lake. You can visit Bird Park located in Bird Park Homestay.
Gili Meno lies between Gili Air and Gili Trawangan. Precisely, it lies at the North Lombok Regency, West Nusa Tenggara, Indonesia. To reach the island, you can take public transportation or rent a boat. If you decide to take a public transportation, you need to pay US$1 per person or US$17.5 to rent a boat from Bangsal Port. To cross the island, it takes around an hour. But, the schedule is available only in the certain conditions. From Bangsal Port, usually the boat departs at 8 a.m. and 3 p.m. If you start your journey from Mataram town, it needs around 45 minutes to reach Bangsal Port. If you start your trip from Gili Trawangan, you can take a boat at 9.30 a.m. and 4 a.m. From Gili Air, the boat departs at 8.30 a.m. and 3 p.m.
Arrive at Gili Meno, first you can do activity is take a tour by cidomo. Cidomo is just like a wagon and if you intend to enjoy the scenery around the island. Besides, you can rent a boat so that you can go to many diving and snorkeling spots. The underwater scenery in Gili Meno is so beautiful. Even, you still can meet big turtles, colorful fish, and coral reef. When you dive, you may explore marine life, especially the coral reef at the east of the beach. If you are lucky, you may meet the groups of fish. Because the water very clear, the vision underwater is quite good. After you explore underwater life in Gili Meno, you can continue your journey to visit Turtle Sanctuary. This is an area to breed the turtles. Then, you can go to Bird Park. So, there are many things you can do when you visit Gili Meno.
Latest News
Of the many tourist destinations in West Lombok Regency, West Nusa Tenggara, Mekarsari Narmada Park offers interesting tour packages. Tourists can try the Tri Sunah activity tour package. The Tri Sunnah are swimming, horse riding and archery. Mekarsari Narmada Park originated from the desire of local residents to take advantage of the existing agricultural potential. The management has built a new swimming pool on resident's land of 2,500 square besto the ide Pecatu village land of 4,500 square meters. The village land was turned into a park equipped with archery…
---
Kenawa Hill in Sumbawa Regency, West Nusa Tenggara Province Sumbawa Regency is part of West Nusa Tenggara Province and it consists of both land and sea natural attractions. The region even features an archipelago where many beautiful gilis or small islands reside. Kenawa Island is one of them and it is known for both the stunning sea and the famous Kenawa Hill. That means tourists should head to the island first if they want to explore and get on the top of the hill. At that spot, they can enjoy…
---
Sumbawa Regency is part of West Nusa Tenggara Province and it consists of both land and sea natural attractions. The region even features an archipelago where many beautiful gilis or small islands reside. Kenawa Island is one of them and it is known for both the stunning sea and the famous Kenawa Hill. That means tourists should head to the island first if they want to explore and get on the top of the hill. At that spot, they can enjoy several tourist activities like sightseeing, photography, camping, and short…
---
Well, some tourists are likely to look for unique vacation spots over time. It is because they want to get a new experience during the holidays. In this case, Sumbawa Regency offers Batu Bulan Dam! As the name suggests, the dam resides in Batu Bulan Village and it belongs to Moyo Hulu Sub-District. In terms of function, it is similar to other dams for sure. One thing that makes it different is related to the nuance. The beautiful landscape and merry atmosphere lure more people to enjoy sightseeing, photography, fishing,…
---