Pantar Strait Marine Park
---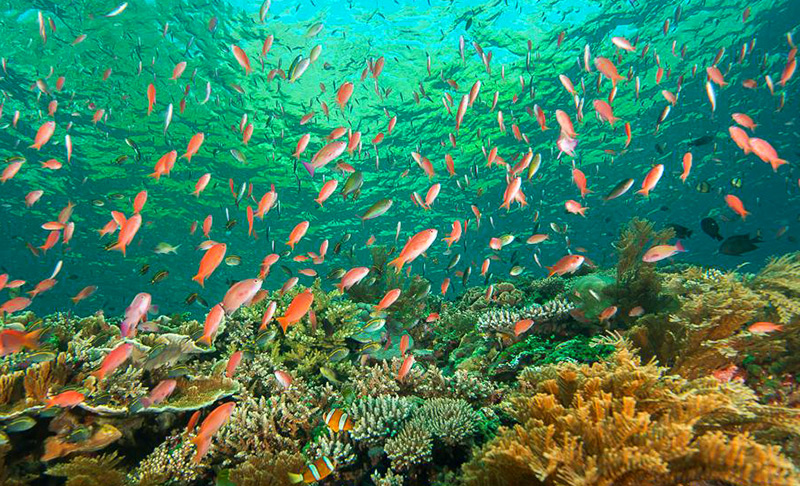 This marine park is located in Alor regency, and becomes one of the most beautiful marine parks in Indonesia. Even, it said that Pantar Strait Marine Park is the second magnificent marine park after Caribia islands.
Pantar Strait is one of the most beautiful marine park in the country and it can be compared with the Caribbean Sea near Central America. This National Marine Park has unique characteristics and beauty blend of Australian cold waters and Indonesia warm water. Therefore, this area is rich in marine life and coral reefs.
This narrow strait has number of small and beautiful islands like the Kepa Island, Pura, Ternate, Buaya, and Tereweng Island. The strait has strong waves and the sound is like the sound of a waterfall. Sometimes, the big waves can hit the wall and it can kill small to medium fish near the coast. On certain months between Octobers to November, the ocean will be safe for the divers.
There are, at least, 26 diving sites in this island around Kepa, Pura, Ternate, and Matap Tanjung Island. The sites precisely located at Half Moon Bay, Peter's Prize, Crocodile Rook, Cave Point, The Edge, Coral Clitts, Baeylon, The Arch, Fallt Line, The Pacth, Nite Delht, Kal's Dream, The Ball, Trip Top, The Mlai Hall, No Man's Land, The Chatedral, School's Ut, dan Shark Close. Jahe Papa beach (Alor) is the location where we can find shark, and at this location, divers can play with a group of friendly sharks. In the waters around Jahe Papa, you can also dive at night.
One of those who contributed to introducing this dazzling underwater paradise is Kal Muller. He has written how beautiful the underwater of Alor and he calls it a world-class marine park. In his two books entitled "Underwater Indonesia" and "East of Bali", Karl Muller revealed that Alor has clean sea water, the diversity in marine life and a lot of diving points that can be enjoyed even during the night. He seemed to expose it all out so it can be the biggest reference for tourists.
Latest News
Koja Doi Village is located in East Alok sub-district, Sikka Regency, East Nusa Tenggara (NTT). Visitors can access this village by boat with a travel time of about 40 minutes from Nangahale Harbor. Koja Doi is one of the tourist villages that won the Indonesia Sustainable Tourism Award (ISTA) from the Ministry of Tourism and Creative Economy. This village offers marine tourism, nature tourism, and cultural tourism. Koja Doi Village has several spot to visit, such as the site of the 1992 tsunami, a stone bridge, ancient rock hills, and…
---
West Sumba has a number of beaches that are destinations and attractions for its tourism sector. One of them is Marosi Beach. This beach is located in Lamboya District. You don't need long from Waikabubak to the location. Enough to travel overland for approximately one hour. In fact, you are also not charged a levy when entering this beach area. Marosi Beach is a beach that is completely empty of visitors. This is a recommended place for those of you who want to get rid of boredom from tired activities.…
---
Aili Beach in Central Sumba Regency, East Nusa Tenggara Province No one can deny the values of natural attractions like beaches, no? When it is about beautiful beaches, East Nusa Tenggara Province has many of them including the one called Aili Beach of Central Sumba Regency. To be exact, the location is in Konda Maloba Village and it resides in South Katikutana Sub-District. Like other beaches of NTT Province, this one is recognized for its pristine nuance and beautiful white sand. The good thing is that it resides in the…
---
Gunung Meja Waterfall in East Sumba Regency Aside from exotic beaches and interesting local culture, East Nusa Tenggara Province is the home to other tourist attractions including waterfalls. Well, one of them resides in East Sumba Regency, which is called Gunung Meja Waterfall. To be exact, the location is in Kuta Village and it belongs to Kanatang Sub-District. Have no worries. The distance is considered especially for those coming from Waingapu City. So, what makes it unique? Some locals call it the hidden nirvana waterfall due to its nice landscape…
---