Inerie Mountain
---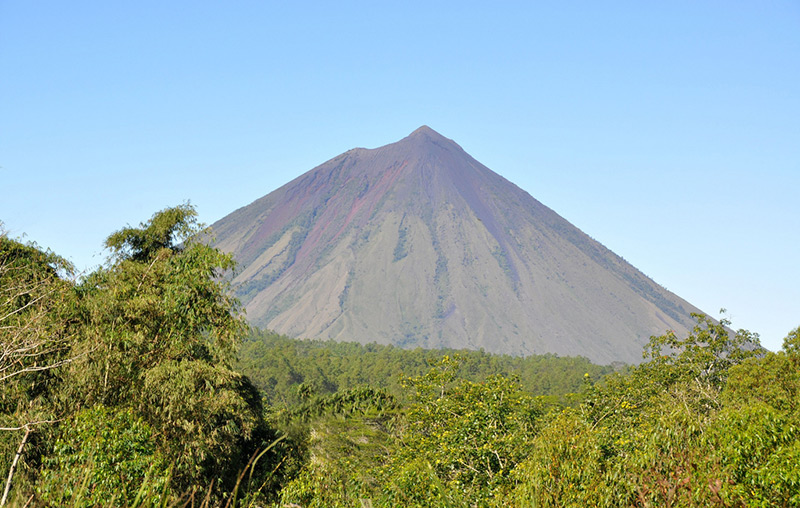 The other most popular volcanic challenge on Flores, which still active is Mt. Inerie. It located near the town of Bajawa in Tiworiwo village, Jerebuu sub-district, the district of Ngada, the traditional center of Flores.
Mt.Inerie is a volcano with perfect triangular pyramid-shaped, where, viewed from its summit the mountain casts a perfect triangular shadow over the valley. The ascent is best taken starting before dawn, for the climb will takes around 2.5 hours to 4 hours, over steep slopes that still has plenty of volcanic scree, and deep ravines at both side of the path. But attaining the summit with its fantastic view is ultimate reward. Tremendous!
The mountain is located in Ngada and is dominant objects that adorn the horizon in the village of Bena. But the best spot to see the mountain from a distance is in Aimere that located in the southern city of Bajawa.
The volcano is still active and it last erupted in 1970 with a height of 2245 meters. When the drought came at around the month of July-August is usually a lot of climbers who try to conquer the peak. To reach Inerie Mt, we can use public transportation from Bajawa-Langa or Bajawa-Jerebuu. For the routr from Bajawa-Jerebuu, we must stop at the village of Bena.
Latest News
Koja Doi Village is located in East Alok sub-district, Sikka Regency, East Nusa Tenggara (NTT). Visitors can access this village by boat with a travel time of about 40 minutes from Nangahale Harbor. Koja Doi is one of the tourist villages that won the Indonesia Sustainable Tourism Award (ISTA) from the Ministry of Tourism and Creative Economy. This village offers marine tourism, nature tourism, and cultural tourism. Koja Doi Village has several spot to visit, such as the site of the 1992 tsunami, a stone bridge, ancient rock hills, and…
---
West Sumba has a number of beaches that are destinations and attractions for its tourism sector. One of them is Marosi Beach. This beach is located in Lamboya District. You don't need long from Waikabubak to the location. Enough to travel overland for approximately one hour. In fact, you are also not charged a levy when entering this beach area. Marosi Beach is a beach that is completely empty of visitors. This is a recommended place for those of you who want to get rid of boredom from tired activities.…
---
Aili Beach in Central Sumba Regency, East Nusa Tenggara Province No one can deny the values of natural attractions like beaches, no? When it is about beautiful beaches, East Nusa Tenggara Province has many of them including the one called Aili Beach of Central Sumba Regency. To be exact, the location is in Konda Maloba Village and it resides in South Katikutana Sub-District. Like other beaches of NTT Province, this one is recognized for its pristine nuance and beautiful white sand. The good thing is that it resides in the…
---
Gunung Meja Waterfall in East Sumba Regency Aside from exotic beaches and interesting local culture, East Nusa Tenggara Province is the home to other tourist attractions including waterfalls. Well, one of them resides in East Sumba Regency, which is called Gunung Meja Waterfall. To be exact, the location is in Kuta Village and it belongs to Kanatang Sub-District. Have no worries. The distance is considered especially for those coming from Waingapu City. So, what makes it unique? Some locals call it the hidden nirvana waterfall due to its nice landscape…
---